John Pittsenbargar out of Las Cruces, NM. was commissioned to reproduce the 6th Kentucky's National flag.
We have based our flag off of the original stored in the Kentucky Historical Society's Digital Collections.  Documentation and images can be found below.
John describes our reproduction as:
The National colors will be the same size as the original, 5.5ft X 6ft.  The regimental name will be painted in 3 inch gold metallic paints and the stars will be hand painted gold as well.  The original flag's stars haven't been cut out, they disintegrated.  Gold metallic oil based paint on original silk, ate the silk.  Your colors will be 100% cotton and have textile paints instead. The star pattern on the National colors is a total of 34 stars, 3 inches in height and they are mirror imaged. The arrangement will be 6-5-6-6-5-6. The final step would be to add about 17 feet of golden cord fringe around the three sides on the fly.
A loud HUZZAH to John for all his hard work. The 6th Kentucky is excited to see the his work of our flag.
The Finished Flag
The 6TH Kentucky can not thank John Pittsenbargar enough. We are proud to have such a talented man recreate our flag.  This final picture speaks more to our excitement and joy than can be described in words.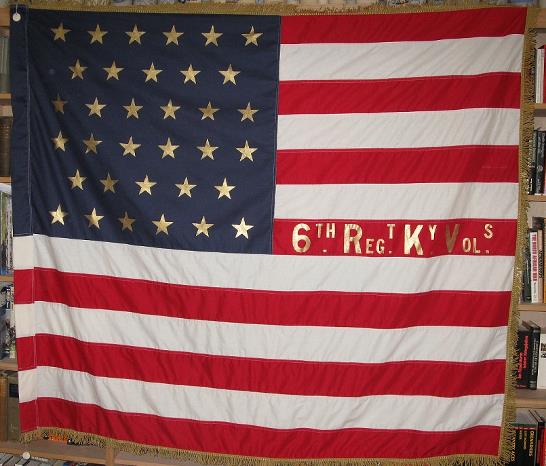 The progress of making the flag. It took John the better part of 3 months.
The pictures show the various stages as the flag acquires a soul of its own.
The flag may have more stars than the Hollywood Walk of Fame. Well maybe not but we do have stars, each hand painted.

And stripes, lots of stripes!  The six foot metal ruler in the middle and the small one (15 inches) at the bottom gives it scale!  The 6th Ky. Vols. is evolving into a true flag.   The canton will be  cut and joined to the two sections of stripes to form the body.
Finally John pinning the red and white stripes together to form the upper half of the flag, less canton - that comes later.  Then, I sew two or three stripes together at a time, then join those sections together to form the upper half of the 7 short stripes.  Next, I will sew the long full length stripes together in the same way.  Once those two groups are done, I will mate the canton to the short stripes, then sew the top and bottom halves together.  At that point, I set the canvas liner in place to form the sleeve.  Before closing the sleeve, I will add the top and bottom tabs with the hand whipped eyelets.